Imagine you open your specialty store on a quiet street in a peaceful town like Boise, Idaho, and from the first day your customer base equals seven billion people. That's billion with a "B." Why? Because you sell on Alibaba and being on the platform means you automatically have the ability to access the entire world population. This is the stated intention of Alibaba CEO Jack Ma.
Want a FREE PDF copy of this blog post?
Enter your email address to receive a free PDF copy of this blog post and all of our latest updates, news and great content from Ready Entrepreneur
With rising consumer demand for high quality products from China's middle class, Ma has a vision that small business entrepreneurs in the U.S. can use the Alibaba platform to create online storefronts, and those small businesses will employ at least a million people, just as the process works in China (estimated 12 million entrepreneurs, employing 30+ million people in China). At Ma's own conference, Gateway '17 held in Detroit in June 2017, he repeated his intention to support one million U.S. jobs by helping American entrepreneurs reach the Chinese market. China represents one-fifth of the world's people. And Alibaba's reach through the Internet covers the whole world. For anyone looking to start a business in the 21st century, within our known worlds there is no greater potential market than…everyone on earth.
The whole idea may seem far-fetched to you as a small-business owner in small-town USA, but it should be standard practice for those entrepreneurs opening businesses right now. Understanding this reality will put you ahead of others who are considering becoming an entrepreneur, but limiting their market to only one country.
How will this form of online entrepreneurship work?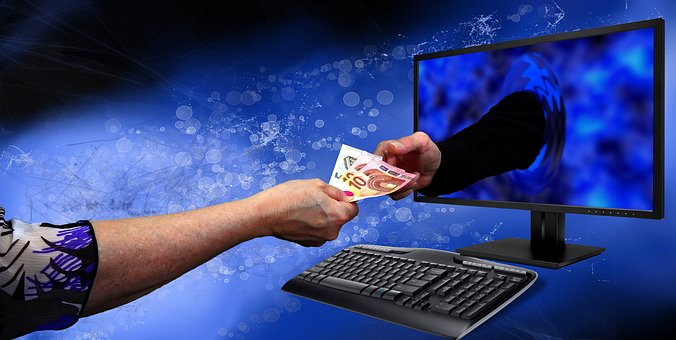 To start online with a global market, technically, you the entrepreneur would set-up your account on Alibaba (or any other similar site by the way), and use marketing and promotional techniques to attract interest in your product or service. If you are currently in a job destined to go overseas, or to a robot, your best chance to bounce back and continue to earn a living, may lie in your knowledge, hobby or personal skill, which you can sell as a product or service to the global marketplace.
The average consumer does not want to be average. People are constantly looking for specific products aimed at their particular tastes. Recently I was shopping for a slim shoulder bag that would fit my laptop. My specification requirements included specific shades of red or green (the colors of my company readyentrepreneur.com) that I also wanted to carry around. To find this bag, I was not going to go to a shopping mall and walk aimlessly through every store. I went online to Amazon.com. After entering a few search terms, I looked at various options and selected the one meeting my criteria – color, number of pockets, fits laptop, and also good reviews. Later, when I attended a conference carrying the bag, everyone commented on how much they liked it, and no one had heard of the manufacturer. That's the opportunity that exists for every small business. The Internet is the infrastructure of the 21st century, playing the role taken by roads and railroads in the last century. But in contrast to the physical transportation infrastructure, cost and access to the Internet is inexpensive, and available to almost everyone. Setting up your business should always include the concession that you are global.
The Alibaba platform was originally designed as a business-to-business e-commerce site, think Amazon (as they do) for entrepreneurs looking for other entrepreneurs to provide products and services. Today additional companies under the Alibaba umbrella provide consumer-to-consumer and business-to-consumer sales, and the entire behemoth is on its way to $400 billion in market cap value. By the way, this is a company projecting $1 trillion in revenue in the next three years. The growing consumer demand for deepening niches of products is the rising curve accelerating small businesses into global companies.
Why will this work?
Availability of support services
The Internet has made access to business services possible for anyone in the world. The business infrastructure is readily available to anyone who wants to use the software. The work of managing consumers, suppliers, finances, logistics and technology is performed by many competitive Internet companies, and new ones arrive every day. In contrast to last century manufacturers, in the Internet age, a company can focus only on creating a product or service, and outsource the manufacturing, delivery and record-keeping to other systems, again at a reasonable price.
No market specific requirements
If you have a product or service, even if you think it's unique to your market, you do not have to change your item and create different versions. In fact, maintaining its culturally-specific uniqueness will likely be a selling point. The world is waiting for products suiting their personalities, interests and desires. If you have the idea you can market it everywhere. Although there are many cultures were conformity is still implemented, sometimes violently, this is not the express wish of the world's rising youth, liberated women and mobile workers. Think of the Filipina nurse who has worked in Saudi Arabia or New Zealand. Or the Barbadian restaurant manager who works on a cruise ship serving customers from ten countries traveling to twenty others. These global workers, spread their knowledge and experiences at home and abroad. And that movement is only expanding, not diminishing, as countries continue to build for a rising middle class, and expanding incomes promotes the demand for more professionals and service workers, including foreigners. Even if you think the market will not understand your product or service, you lose nothing if you at least offer your idea to the world and see what happens. You lose completely, by not attempting to go global.
No trade barriers
You have no free trade barriers in this scenario. Free trade agreements, and non-agreements, tend to focus on commodity items a country is trying to protect such as wheat, coal, oil and automobiles. But if you are making a unique item of clothing, or specific learning materials, or household decorations, or technology software, you are unlikely to face online barriers to trade. Meaning the economic value of cross-border trade may continue to grow, even if the government puts up trade barriers for other products. As people see traditional job opportunities continue to fade away, as is inevitable, those who are anti-globalization will be superseded by those who are desperate to make a living by running their own business. Individuals who are building businesses, will know they have global reach.
Expanded opportunity to make money
Individuals rarely turn down an opportunity to make money, even in the face of government policy or their neighbor's disdain. In a world where old jobs are gone, education is expensive, and marginalized people are increasingly frustrated with their world, people will begin to search for new opportunities. If the technology is available, and the market is demanding your product or service, why would you leave money on the table? As a small business entrepreneur, you are positioned for global growth, and have an opportunity to embrace, not reject, the opportunity.
The issue is not the logistics of using Alibaba or any other e-commerce platform, it's only about ensuring you are actually in the game. Ignoring the global market means you will miss out on revenue available in locations you may have never heard of. But if you are at least aware that these platforms are available, you will be able to see where the market is going, and take advantage of the movement.
Okay so what does Jack's one-million jobs mean to you?
Influence legislative agenda
If the vision of a million Alibaba entrepreneurs comes to fruition, they will influence the augmentation of a global, free trade, self-supporting, entrepreneurial, technology-driven and controlled, individually-minded world. If you are resistant to any of these realities, your best defense is preparation.
Encouraging people to become self-supporting entrepreneurs is usually in most government's portfolios. The more legislators focus on the opportunities Ma is evangelizing, the more realistic the global marketplace will become for small business entrepreneurs. If an influential percentage of the population can continue to earn money without the need of government assistance or the repatriation of a factory from another country, the government is relieved from its mandate to be concerned or involved in these people's lives. The more Jack Ma and people like him can simplify the online tools used by entrepreneurs, the more people will jump online and their dependents will be removed from the government's umbrella.
Promote free trade
Online marketplaces are the definition of global free trade. This is a case where technology will drive human interaction, not government. Free trade automatically exists online and there is no government ability to end this reality. Even if legislators pulled the plug on the Internet, clever technologists would figure out how to directly deliver the connection services. Global free trade is a fact of economic life, and online entrepreneurs do not need a trade treaty to work with people all over the world.
Further impact of technology
The ongoing ability of technology to drive our activities, and help us make money, becomes even more ubiquitous in a world where the average entrepreneur has to think of the online presence as a branch of the business, not only a function of the business's administration, like the accounting department. Although earning a living income online increases a person's dependency on Internet technology, the benefits outweigh the risks as the number of people utilizing online services increases exponentially.
Redirect competition
A global online marketplace for small business also changes the nature of competition. With everyone operating in a niche, there are no competitors. You will design your company to be unique from the beginning, and you will target a market others are ignoring. In my everyday life, as likely in yours, I can think of dozens of products I wish I had which could make my life easier and more efficient. If I can find these products on the Internet, as with my slim laptop bag, I will buy it. Do you want your products or services to be available to those who are looking for it? If so, you must begin researching the options available to you. If you are afraid of globalization, an individual self-interest driving the economy, a million online global storefronts could be your worst nightmare, until you are looking for a specific item to buy at an inexpensive price. At that point, you are likely to imagine you did not know how you could have lived without the service for so long.
For more information about becoming an entrepreneur, visit my website, http://www.readyentrepreneur.com.
For a future world vision of the impact of Jack's idea, see the version of this blog created for my Life Online book series at http://www.claneworld.com.
Want to discuss these ideas? Send me an email: contactcase(at)readyentrepreneur(dot)com
Want a FREE PDF copy of this blog post?
Enter your email address to receive a free PDF copy of this blog post and all of our latest updates, news and great content from Ready Entrepreneur